AIA uses Vymo to expand insurance coverage engage with agents meaningfully.
AIA Indonesia is leveraging Vymo to improve sales distribution processes and provide agents with the tools they need to build stronger relationships with customers. It is now easier than ever to work quickly and transparently, helping to improve productivity and drive growth.
134%
Increase in number of leads
114%
Increase in Bancassurance Lead Referrals
Challenge
Due to the lack of appropriate insurance guidance available to Indonesia's youth, there is a huge requirement for reliable and knowledgeable advisors to provide education and guidance.
AIA Indonesia wanted to gain visibility into how on-ground teams are engaging with customers and if they were helping customers make better financial decisions. Sales leaders and managers needed visibility into their team's activities.
Focus on more value-adding activities

Advise customers meaningfully

Improve visibility of sales activities
"Partnering with Vymo, we looked across our distribution channels for how we can help our teams become more efficient in what they do every day and use their time more effectively."
Sainthan Satyamoorthy,
President Director of AIA Indonesia
Solution
Vymo created a customized solution to address these issues by analyzing which actions had positive results. This information was converted into a activity playbooks for users to drive productivity bottom-up.

Vymo also made it easier for agent to automatically record their sales activities, manage customer requests, and generate reports for their line managers.
AIA uses Vymo to manage sales activities in Partnership Business and Agency. With Vymo, salespeople can advise and guide clients to make better financial decisions, freeing up time for more value-added activities.

Vymo helps identify outcome-enhancing activity patterns across the organization and provides the infrastructure to drive these behavioral shifts across teams.
Streamline Recruitment and Onboarding Practices
360-degree visibility into sales activities
Help agents replicate best behaviours
Orchestrate sales playbooks
Contextually suggest next-best-actions to agents & managers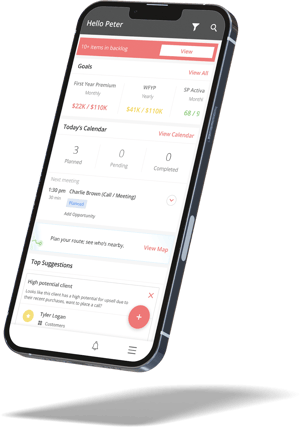 Result
Technology is constantly evolving, and users need platforms that are easy to use and understand. With it's intuitive user interface, Vymo eliminates the need to spend too much time on training and adoption. Vymo enabled sales teams to easily access the information they need to work more efficiently and effectively, which resulted in better outcomes for the organization as a whole.
A key aspect of the platform deployed for AIA is its mobile-first approach. Salespeople are always on the go, meeting clients and closing deals. With Vymo, on ground teams have access to the information they need, regardless of where they are. By designing a platform that is optimized for mobile devices, agents can easily access the information they need without having to switch between multiple apps and interfaces.